As part of its international business development, ACIMEX took part from 08 to 11 November 2018 in the GIC show in Piacenza, Italy, on the TECNOMOVINT booth, its Italian partner.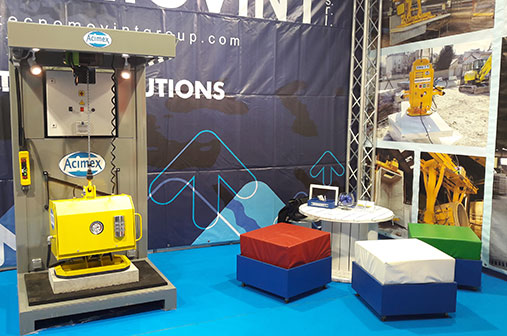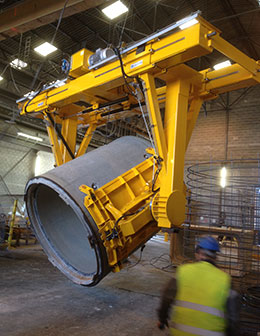 This 2nd edition of the Italian Concrete Days was the opportunity for ACIMEX to make its brand and CONCRETELIFT range known in a fair dedicated to the concrete business with cement manufacturers, cement components etc..
A warm welcome for ACIMEX products
Owing to the demonstration device installed on the stand, which reproduces the action of the suction cup in real time, the ACIMEX Sales Team was able to demonstrate all the advantages of the vacuum technology. Indeed, safety, productivity and tailor-made design equipment are unequalled assets compared to conventional lifting solutions. These demos were appreciated by the majority of Italian visitors who were interested in this French know-how. As a result, there have been many requests for quotations for demoulding and / or turning concrete applications.
This interest also strengthens the collaboration with the Italian partner representing the brand in Italy, sending positive signals on the European scene for the sales development of ACIMEX.
CONCRETELIFT : the best range to handle concrete pieces
This event has also allowed ACIMEX and TECNOMOVINT teams to highlight each product from the CONCRETELIFT range : vacuum handling solutions for all types of concrete parts.
This application is one of the areas of expertise of the French SME, which regularly produces vacuum lifters and lifting grabs for the realization of operations in record time. These devices are designed to demould, turn, tilt concrete loads up to 30 tons and more.
ACIMEX, the expert in heavy handling, can work with you on your projects. Please contact us or ask us for a quote.