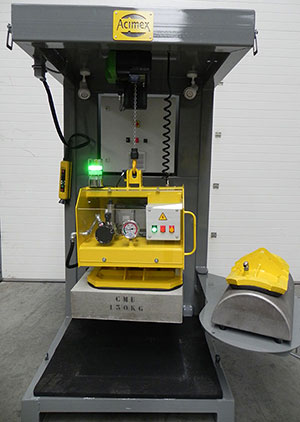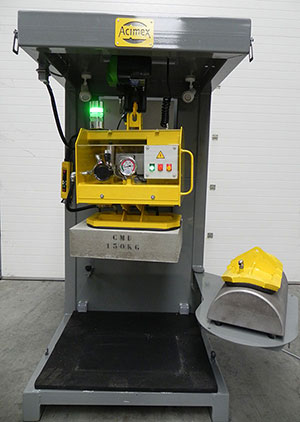 The company, expert in lifting heavy loads, decided to get a sales support by designing and manufacturing a full size demonstrator. This device was first shown at the SEPEM show in October 2017, and was very well received by visitors, as it simply explains the efficiency of the vacuum technology.
The ACIMEX demonstrator perfectly replicates the action of the suction cup lifting heavy loads in real time. Depending on each area of application (concrete precast, metallurgy, aeronautics etc.), it is equipped with different loads, easily replaceable with each other : a concrete block, a metal plate or a half cylinder.
For each new show, the demonstrator will be present alongside the Sales Team, allowing to quickly and concretely explain the know-how of ACIMEX in vacuum lifting.
TECHNICAL DATA :
- Dimensions : 1195 x 1200 x 2275 H mm
- Weight : 800 kg
- Supplied power : 230V – TRI 400V
- Load capacity : 250 kg
- Suction cups available for metal plate / concrete block / half cylinder
- Motion : Up & down / hold & release
- Visual and sound alarms
ACIMEX, the expert in heavy handling, can work with you on your projects. Please contact us or ask us for a quote.