Mechanical storage grabs, hydraulic turning grabs, breakwater grabs, etc. ACIMEX is specialized in the design and manufacture of customized handling grabs. Ask for a quote to obtain a model to suit your needs.
The different types of lifting grabs designed by ACIMEX
Lifting grabs are pieces of handling equipment used for gripping heavy concrete loads, such as segments and tetrapods. ACIMEX has already designed and manufactured lifting grabs with widely varying characteristics:
Mechanical storage grabs used to handle several segments at a time and which operate without any input of energy, because the hinged mechanism uses the gravity of the charge as the clamping energy;
Hydraulic grabs used for the storage or the turning over of heavy loads;
Breakwater grabs which use the auxiliary circuits of a shovel to handle and install tetrapods, for the construction of coastal dykes.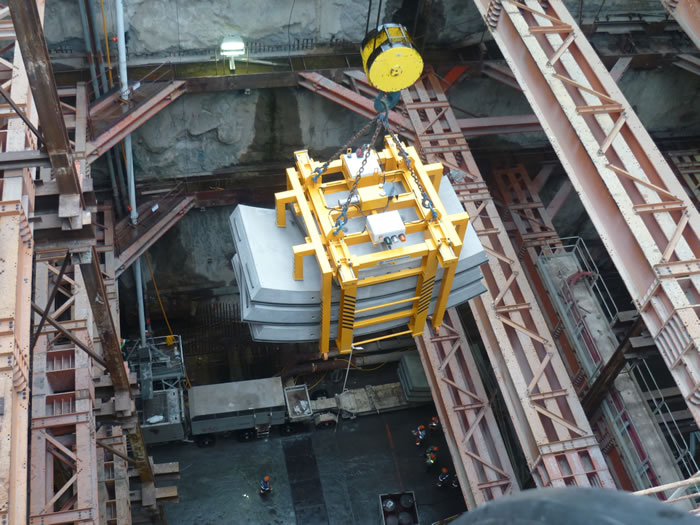 The gripping actions of ACIMEX lifting grabs
With lifting grabs designed by ACIMEX, you can handle all gripping actions. Our products enable you to:
Move a stack of segments horizontally;
Grip all segments in the horizontal position, intrados to the top;
Demould a segment on its extrados side;
Turn a segment over through 180°;
Stack segments for temporary storage;
Grip and install tetrapods (also called acropodes).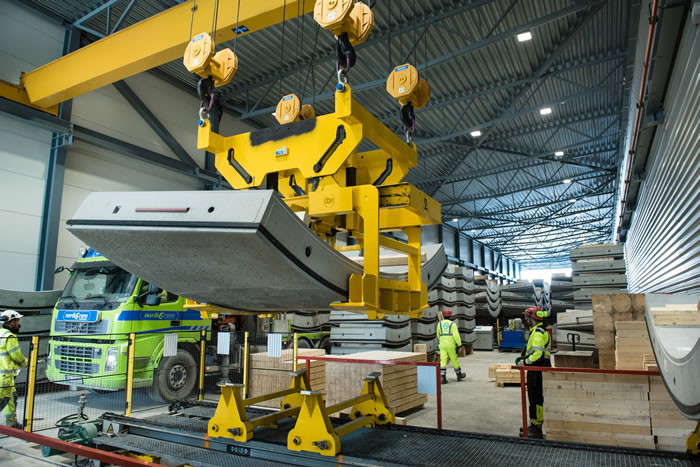 ACIMEX lifting grabs, a guarantee of quality worldwide
Many international customers have called on ACIMEX know-how for the largest tunnelling projects in the world, including:
The Crossrail C300 in London, which is the largest construction project of a tunnel in the world with the aim of creating a fast subway line that will cross the English capital from East to West.
The Sabzkooh project, which consists of demoulding, turning over and stacking segments with a width of 1,300 mm and a thickness of 300 mm to build a water tunnel in Iran./li>
The construction of a sixth subway line in Sao Paulo, the biggest city in the country, with a scheduled opening in 2020.
ACIMEX, the expert in heavy handling, can work with you on your projects. Please contact us or ask us for a quote.