« Coming up, many potential projects, some of which are imminent with probable benefits in the months to come "says Eric Lama - Sales Manager at ACIMEX. After four days of enthusiastic and qualified visits, ACIMEX - the expert in heavy lift lifting from Tours - looks back on the French industrial event of the year.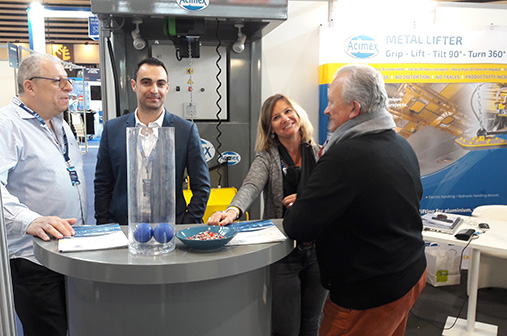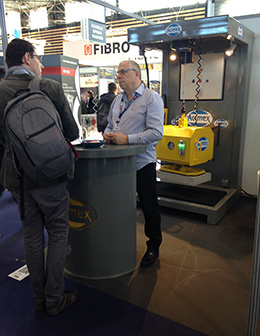 This year, the Global Industry show was held in Lyon at the beginning of March in the Eurexpo Exhibition Center. As in 2018, this event showcased all the players coming from technology, services and industrial know-how of today and tomorrow. From research & innovation, through design, production and to subcontracting and training, the whole French industrial ecosystem was highlighted. Proud to be a part of this value chain, ACIMEX presented its global solutions for mechanical, automated and vacuum lifting.
ACIMEX's expertise at the service of the French industry
Global Industry is a highlight for ACIMEX. The Loire Valley brand, active in France in several fields of activity (aeronautics, concrete prefabrication, pipe, etc.), has to be visible on this essential event. We had the great pleasure of welcoming many visitors interested in vacuum handling, and also in the expertise of ACIMEX regarding global lifting solutions for heavy loads.
The range of bespoke machines developed by ACIMEX also attracted the interest of some visitors. In search of automated solutions to optimise their production, they were able to discuss with This email address is being protected from spambots. You need JavaScript enabled to view it. - the Autolift specialist at ACIMEX.
This 2019 edition was rich in new projects, reinforcing our position as an expert on the French handling market : a positive note for the beginning of the year, which should continue with the participation of ACIMEX in the international construction fair from April 8 to 14 in Germany: Bauma 2019
ACIMEX, the expert in heavy handling, can work with you on your projects. Please contact us or ask us for a quote.