TRIGANO VDL is the biggest motor caravan production unit in Europe. Located in the Rhone Valley, the company commissioned ACIMEX to modernize its production process and to get a viable automated lifting solution.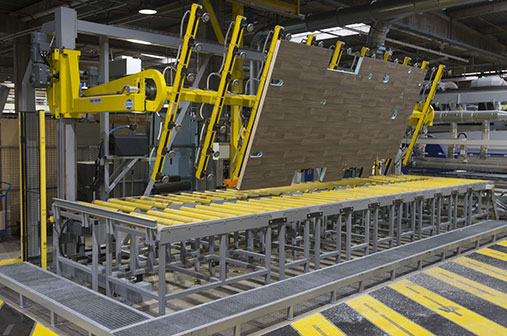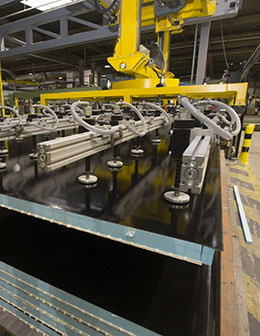 The need of an automated lifting solution
The TRIGANO factory is functioning 24/7, which is why the company needed an automated solution. The elements that need to be lifted are aluminum sheets and "sandwich" panels, made of polyester. There are different panel sizes, going from 500x1800mm to 2600x7200mm, with a maximum weight of 160kg. TRIGANO needed an automated lifting system, able to move these elements and to turn them over. The solution offered by ACIMEX had to adapt to different sizes and to function without interruption.
The ACIMEX comprehensive lifting solution
ACIMEX designed a global lifting solution, composed of one modular vacuum lifter and one turn-over vacuum lifter. The modular vacuum lifter was integrated within the already existing production machine. It circulates on a bridge, allowing it to move the panels from one of the three exit line, onto the machining station. Once the panels are done with the machining process, they are then turned-over by the second vacuum lifter. ACIMEX had to provide a machine working 97% of the time on 1 million cycles. A panel is picked up every 2 minutes.