Acknowledged as the leader in segment handling on tunnel construction sites, ACIMEX has decided to rethink its storage lifter in order to gain productivity in the factory during the prefabrication of segments. These curved elements, made of precast concrete, are assembled by compression to form the coating of tunnels (train, subway, road, pipeline, water ...).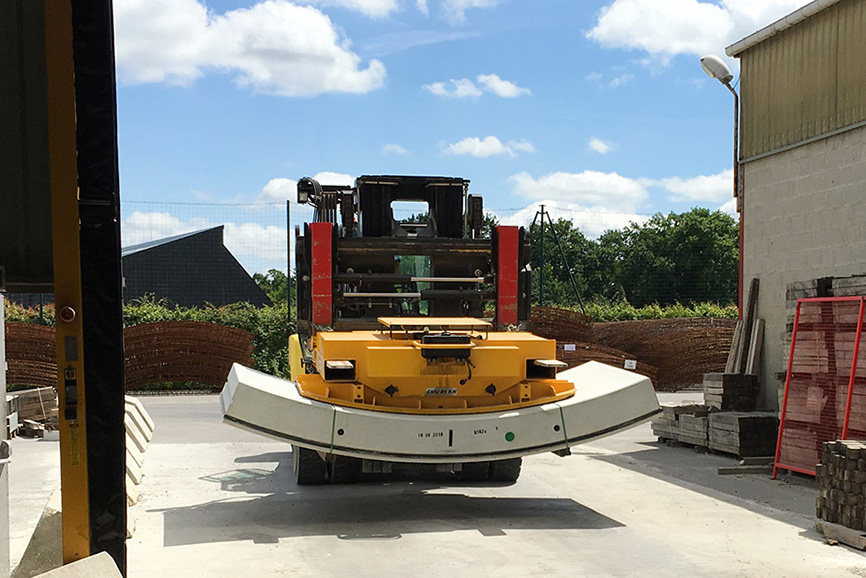 A new design for the TUNNELIFT range made by ACIMEX
The ACIMEX storage lifter is used on a forklift to move segments (up to 15T) from the factory production line to the storage area, and to be transported inside the tunnel. The standalone version of this device is increasingly wanted by customers. Indeed, no need to connect to an external power supply, two sources of energy are now available :
A thermal diesel engine is integrated in the lifter, with a radio remote control independent of the forklift. A real advantage, as the truck no longer needs to be modified. The whole device operates independently and the lifter can be positioned on different carriages without having to intervene on their power supply system.
A hydraulic motor, which recovers energy & electricity from the forklift thanks to a pulley.
The ACIMEX Design Office also studied the practicality of the device, and thought about a new design to lower it, in order to improve the visibility of the operator who handles it.
These technical innovations allow the standalone storage lifter to be a practical, economical tool with a possible adaptation to several trolleys.
They have already chosen ACIMEX
Many customers have already shown interest in this product improvement, and a dozen of these lifters are currently in service on the Grand Paris construction site. Other French precast customers have also been conquered: this is the case for Bonna Sabla, Stradal, L'Industrielle du Béton and many others.
The international market is not left behind, as ACIMEX has equipped 2 lifters for the RIJNKANDROUTE project in the Netherlands, and will soon provide 1 device on the CBBT PARALLEL THIMBLE SHOAL TUNNEL site in the United States.
A success which confirms the expertise of the French company with many great tunnel boring machines project managers and manufacturers.
ACIMEX, the expert in heavy handling, can work with you on your projects. Please contact us at This email address is being protected from spambots. You need JavaScript enabled to view it. or ask us for a quote.