Kevin VETEAU has been a Drafting Technician at the ACIMEX Design Office since 2008. After 11 years spent in the company, he tells us about his everyday life in the french SME and especially about his work relationship with ACIMEX China.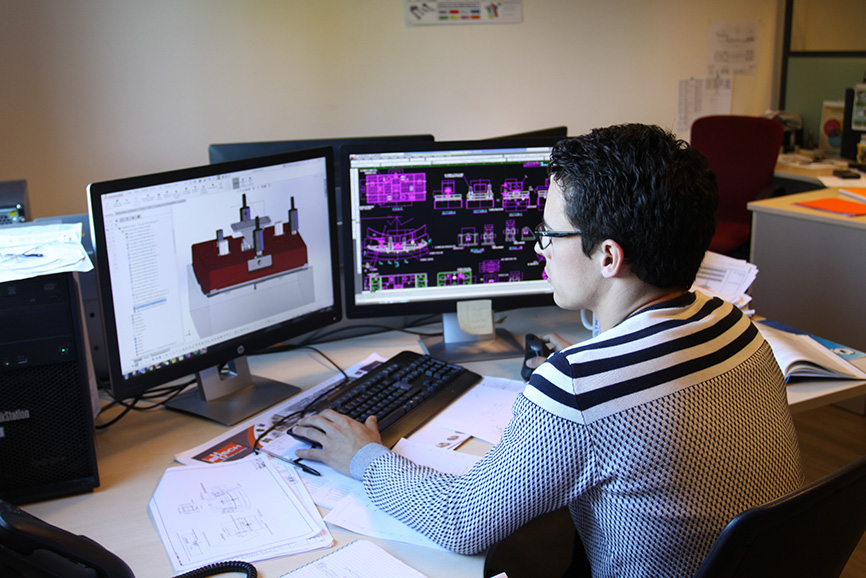 What was your background before you arrived at ACIMEX in 2008 ?
I first got my BTEC Higher National Diploma in Industrial Product Design, and then my Professional Licence in Computer Aided Design and Manufacturing in 2007 ; to complete it, I made my apprenticeship at the SKF Company (Saint-Cyr-Sur-Loire, France). I was hired by ACIMEX in 2008 while the Head Offices were still located near Paris, and I followed them when they moved to Saint-Avertin in 2013.
At which point do you intervene on a project and what's your role ?
The Design Office intervenes as soon as the Sales Service signs the contract with our client : they give us the specifications established with the client and we begin the project drawing, to be able to offer him a detailed CALCULATION NOTE. This document is a technical file which contains the measures and the performances of their product. After validation, we initiate the PURCHASING folder for the Purchase Service, and the MECHANICAL and ELECTRICITY folders for our technical teams at the workshop, so that they can begin the production and manufacturing of the product.
How do you process with your chinese counterparts when you need to work on their projects ?
We have 2 main speakers onsite : the Sales Service, which is the mediator between us and the client, and the Technical Service which reads our drafts and transmits the information to the chinese workshop.
We work approximately just like with french projects : the Commercial Service signs the contract and sends us the specifications. From there, we provide a first draft with the data we got ; this data is often less precise than french studies, and we quickly send this first rough drawing. From then onwards, several exchanges with the client are necessary : we modify the plan, we refine, we adjust until he validates the final project. Chinese culture prefers reactivity and real time exchange rather than preparing in advance a final project as we tend to do in France. This is the only real difference we have. We had to adapt ourselves to this new way of working, but after 10 years of collaboration, the ACIMEX Design Office is now very comfortable on chinese projects.
What are the advantages and disadvantages of this collaboration ?
Working with China is an interesting challenge, besides the language barrier and the clash of cultures, we finally found our pace. We must be more reactive, because the clients expect a concrete project quickly, and this requires a good technical mastery. We also need a lot of thinking to resolve the eventual issues we can meet in production to stay efficient on this « one by one » working method. Speed of execution, availability and professionalism are the keywords for a good relationship with our chinese colleagues. On their side, they are transparent with us, communicate a lot and don't hesitate to share their opinion and techniques. This helps us a lot to walk hand-in-hand to reach a proper outcome for each project.
ACIMEX, the expert in heavy handling, can work with you on your projects. Please contact us or ask us for a quote.