For almost 50 years, ACIMEX has been selling its range of lifting devices across the hexagon; some of them are in perfect working order and are still used by our clients. Last month, we visited LIOTARD, a company which incorporates in its production line the ACIMEX vacuum lifter they purchased in 1991. Let's take a look at this product...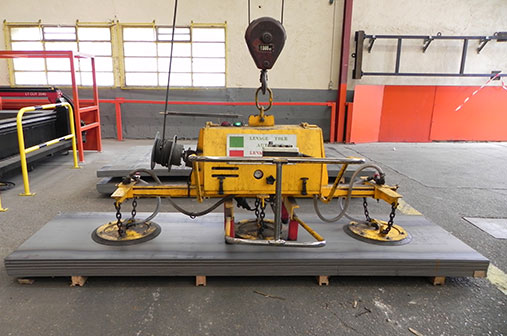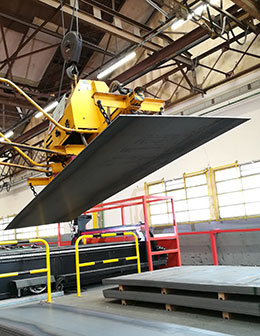 French company LIOTARD, a subsidiary of the PRIMAGAZ Group, manufactures gas cylinders and tanks. It has opened for us the doors of its Saint-Pierre-Des-Corps (37) factory, a thrilling moment which helped us understand the importance of lifting for the creation of tanks. The ACIMEX vacuum lifter, used several times a day, has become an essential production tool.
Some additional data to better know the activity of LIOTARD :
- Capacity of a tank: from 330 kg to 3.2 tons
- Tank dimensions: 1 to 6 m long, with a diameter of 1000 to 2000 mm
- Number of tanks produced / year: between 3 000 and 4 000 units
- Average production time of a tank: 15 to 20 minutes
- Customers : Primagaz, Total, Antargaz, Butagaz, ...
What role does ACIMEX play in the manufacturing process of a gas tank?
The ACIMEX vacuum lifter is used at the very beginning of the production line. The operator will choose the necessary plate owing to the vacuum lifter fixed on a travelling crane. When the vacuum is removed between the suction cup and the sheet, the operator holds, moves and then releases the plate on the cutting table. Once sheared, the plate is again handled by the vacuum lifter, to be sent to the roller machine in order to give it its final shape. This action is repeated 2 or 3 times depending on the sheet sizes chosen to produce each tank. The thickness of these plates range from 5 to 7 mm.
Sheets weigh between 100 and 400 kg ; it takes only a few seconds for the operator to handle them.
40 handlings per day have been conducted since 1991, the year when the ACIMEX vacuum lifter was installed and never replaced. Owing to its robustness, this equipment still allows faster handling and a safe working environment.
ACIMEX lifters: a quality acknowledged by its customers
ACIMEX vacuum lifters comply with the EC lifting standards, in particular the "Machine Directive 2006/42 / EC" and the "AFNOR EN 13155" standard.
On some points, ACIMEX meets well above the requirements of lifting standards, in order to reassure its customers and to guarantee them a result combining efficiency, safety and reliability. «It is clear that no major breakdown has been detected in 27 years of use, despite repeated daily operations "says Mr. Jean-Marc Huard – Maintenance Director at LIOTARD.
ACIMEX also relies on the quality of its components, in particularly on the supply of suction seals. These consumables can be, unfortunately, too often changed if the quality of the material is too low. It is recommended to use the manufacturer's rubber, because ACIMEX certifies a superior quality with a standardized density and thickness, adapted to each vacuum lifter. The ACIMEX after-sales service, once contacted, makes every effort to replace defective parts or to set up a customer intervention if necessary.
Thanks to the durability of its lifting equipment, ACIMEX guarantees an ever-efficient MADE IN FRANCE quality.
Do not hesitate to contact us for all your needs, whether it is a question about one of our products or a quote request : https://acimex.net/en/ask-acimex-for-a-quote.html