For more than 50 years, ACIMEX has been exporting its equipment devices in the entire world, to provide the best industrial lifting solutions. Specialised in concrete segment lifting for tunnelling, ACIMEX recently sold lifters and grabs to equip the Pawtucket tunnel segment plant, commissioned in Rhode Island in the USA.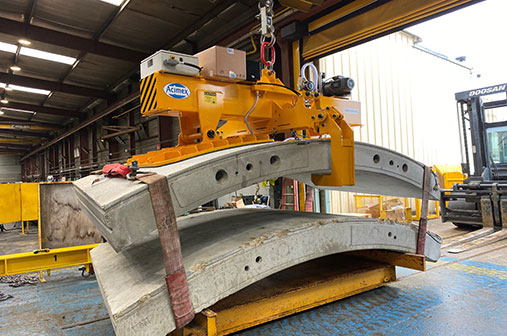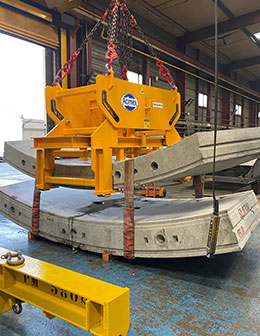 ACIMEX in Pawtucket, at the heart of environmental concerns
The Pawtucket project was born out of the water management modernization programme of Narragansett Bay, in Rhode Island. CB3A, the joint-venture which leads the Pawtucket tunnel project (Bouygues Public Works US associated to Barletta Heavy Division) ordered from ACIMEX the equipment for the concrete segment production plant.
The project is about the creation of a 3.5 km-long main tunnel, which will collect and store rainwater, wastewater and industrial water from the whole region, while waiting for the water to be treated by the treatment station. 7 wells will be excavated to fulfill various functions, such as pumping stations or water collectors.
Various lifting equipment provided by ACIMEX
CBE Group provided the automated plant for the production of concrete segments for Pawtucket : ACIMEX, a parent company within the group, hence equipped the carrousel with segment lifters.
ACIMEX also provided 1 demoulding lifter and 2 mechanical grabs to work in the precast plant. 2 hydraulic grabs complete the equipment of the plant, one of them being able to lift up to 4 segments simultaneously. This equipment will be installed in the storage plant in order to supply the TBM with concrete segments. These grabs are still being manufactured at the ACIMEX workshop, located in France, at the heart of the Loire Valley. Delivery is set to happen during the first semester of 2022. Another great collaboration between the French SME and one of its numerous international clients !
ACIMEX, the expert in heavy handling, can work with you on your projects. Please contact us at This email address is being protected from spambots. You need JavaScript enabled to view it. or ask us for a quote.