Owing to its reinforced presence in China since 2017, with the opening of the ACIMEX Shaanxi office onsite, ACIMEX is now participating in the construction of the new Chinese medium-haul aircraft. This first step announces a great future in China for ACIMEX.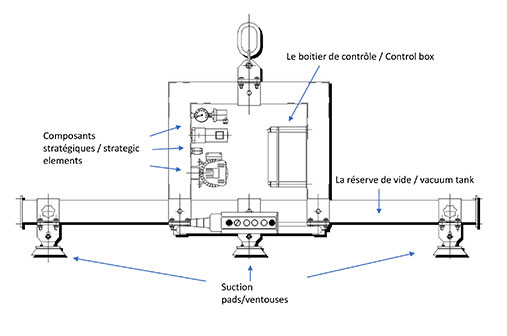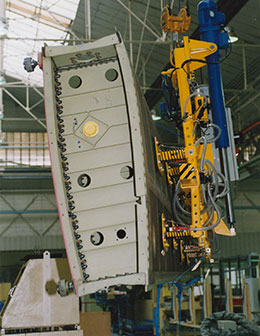 The first Chinese medium-haul aircraft ready in 2019
In 2008, the Chinese government launched with COMAC (Commercial Aircraft Corporation of China Ltd) the C919 project for the production of medium-haul aircraft. More than ten years later, a first delivery is planned for 2019, its aim being to compete with occidental markets, offering the same range of product such as Boeing with the B737 or Airbus with the A320.
ACIMEX, supplier of vacuum lifters for metal sheets
The French company has been chosen recently for this project, becoming its partner in charge of handling high value-added parts. ACIMEX provides here a vacuum lifter specially designed for horizontal movement and 90° tilting. It intervenes during the pre-assembly phase for the middle part of the body of the aircraft.
Gripping and moving these expensive components without leaving marks or deforming them are a key request from the client. The ACIMEX vacuum lifter respects the full integrity of the load and ensures that thin sheets are handled with utmost care.
How to operate the ACIMEX vacuum lifter for metal sheets
Using its specific suction cups, the ACIMEX vacuum lifter grips the finished aircraft fuselage skin available on a trolley in a sheet format. Once the hold is done, the sheet is tilted, moved and then released at the assembly station.
Type of fuselage
| | | |
| --- | --- | --- |
| Dimensions of the sheet (mm) | Thickness en mm | Weight (kg) |
| 2020*6010 | 2.2 | 54 |
| 2100*6010 | 6 | 88 |
| 1110*6010 | 6 | 77.5 |
Technical specifications of the vacuum lifter
SWL: 125kg /
Weight of the device: 350kg
Number of suction pads: 12 (diam. 100mm)
Power: 380V, 50 Hz
The vacuum lifting technology developed by ACIMEX for the handling of high capacity metal sheets is one of the most reliable solutions on the market. The French company has already sold more than 3,000 lifters within the industrial sector.
Future aeronautical opportunities for ACIMEX
This achievement is the starting point to enter the Chinese aeronautical market, and represents an important step for its international sales growth. ACIMEX adds a strong reference to its list of successes: well known in China, the C919 project allows ACIMEX to strengthen its global position as a lifting expert in Asia. Other projects are currently being studied, notably with SAMC - a subsidiary of COMAC.
ACIMEX, the expert in heavy handling, can work with you on your projects. Please contact us or ask us for a quote.