Started in 2017, the GRAND PARIS EXPRESS project is about renovating and expanding the Parisian metro network : it is now one of the most important European infrastructure projects. French SME ACIMEX multiplies orders of handling and lifting equipment to equip the project's carousels, where concrete segments are produced.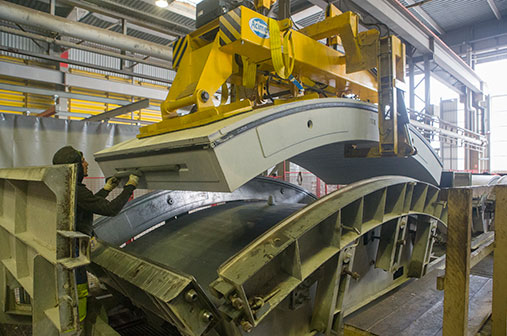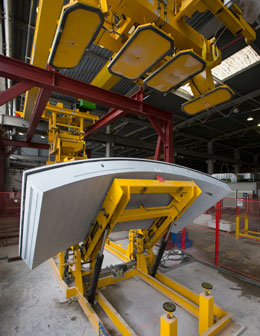 Grand Paris, a huge project
GRAND PARIS EXPRESS represents 200 kms of automatic lines, which will in time double the current surface of the Parisian network. It also represents 68 stations and 7 technical centers for a project amounting to 35.6 bn euros. This impressive project will last a bit more than a decade.
Many French companies are mobilized, among which ACIMEX, which was solicited for its 50-year-expertise in the vacuum lifting of heavy loads sector, a technology that was initially developed for the lifting of concrete segments for tunnelling. A dozen companies like VINCI or ALLIANCE called upon the ACIMEX technology to equip their plants, just like CBE Group which equips all its carousels with ACIMEX vacuum lifters for the handling of the concrete segments.
About forty ACIMEX vacuum lifters ordered for GRAND PARIS
For the demoulding, the lifting and the handling of concrete segments in production factories, construction companies use vacuum lifters. This mechanical equipment lifts concrete segments from moulds after curing, and stocks them. The vacuum technology ensures a safe grip, without altering the concrete load. Vacuum lifters have many functions : demoulding the concrete segment, in order to handle it from one station to another in the plant, to tilt it or to stock it.
Because ACIMEX provides a wide range of lifting equipment for each of these functions, the company received many orders for GRAND PARIS : a dozen demoulding and storage lifters ordered by STRADAL and LA LIGERIENNE DE TRAVAUX. 3 storage clamps have also been produced for SPIE BATIGNOLLES, VINCI and 6 more for the consortium HORIZON (BOUYGUES).
CBE GROUP, as usual, ordered from its subsidiary some vacuum and mechanical lifters to equip its carousels : 2 demoulding lifters and 2 storage clamps for the automated plant in Limoges Fourches, about fifteen demoulding and storage lifters for the sites in Conflans Ste Honorine, Cinq-Mars-la-Pile and Bruz, and finally 3 storage clamps for ALLIANCE, which provides concrete segments for the 15 and 11 lines.
No less than forty handling and lifting machines provided by ACIMEX are in action for GRAND PARIS today. The project is far from being done, so the ACIMEX workshop gets ready to answer new orders as soon as possible.
ACIMEX, the expert in heavy handling, can work with you on your projects. Please contact us at This email address is being protected from spambots. You need JavaScript enabled to view it. or ask us for a quote.