Recently integrated into the product catalogue, the ACIMEX drop table is an innovative solution to move and to position breakwaters in the construction of dams in port areas. Let's take a look at a construction site in Kuwait where ACIMEX provided such a product.
For its customer HYUNDAI, back in 2019, ACIMEX supplied a 5T drop table which allows to position safely and quickly thousands of CORE-LOCTM blocks for the construction of the Al-Zour refinery dam.
STEP 1 : Manufacture & performance test of the drop table in the ACIMEX workshop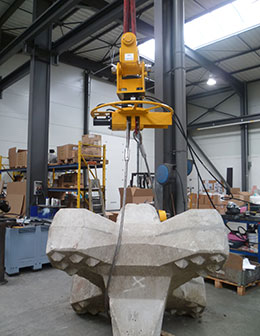 Weight of the drop table : 350 kg
Lifting capacity : 4.8 T
STEP 2 : Installation and commissioning of the drop table on site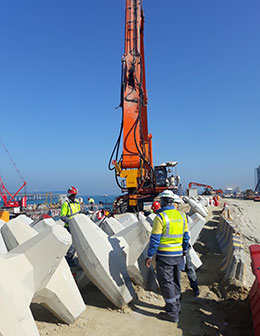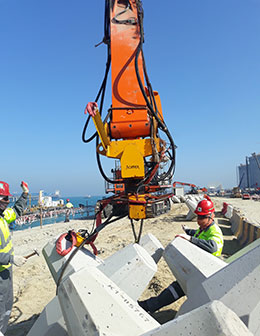 Al-Zour LNG Terminal dam refinery
Mooring on excavator hydraulic forklift
STEP N ° 3 : Positioning of
CORE-LOC

TM breakwaters on land and in the sea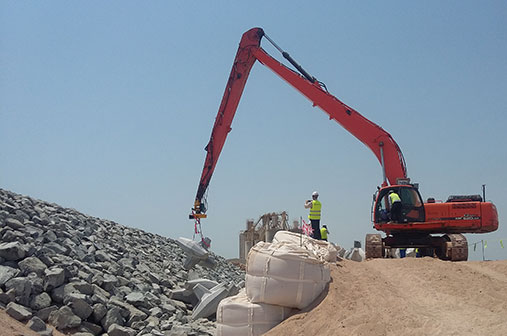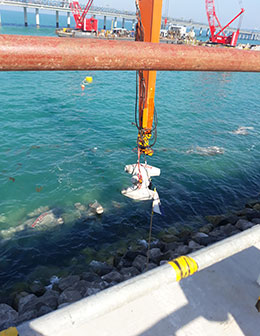 The drop table system is able to handle concrete blocks quickly and provide high security levels. This innovative product can be attached to a stacker, a forklift or a mobile crane. ACIMEX's partner on this product, Mesuris, is the current leader in this innovative market. Building on its success not only in Kuwait but also in Iraq with the construction of the AL FAW dam, the ACIMEX drop table is an essential tool for the installation of artificial blocks.
ACIMEX, the expert in heavy handling, can work with you on your projects. Please contact us or ask us for a quote.