ACIMEX works with cutting-edge specialists with very specific expertise for its niche activity, in order to provide more effective and precise equipment. Among other things, MESURIS offers equipment able to guide the positioning of armour units for the construction of breakwaters.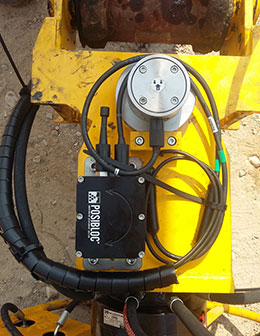 A strong partnership
If MESURIS worked first with CBE Group, the partnership is now mainly maintained with ACIMEX. In 2017, the two companies collaborated for the first time in Iraq, on the AL FAW project, for the construction of an 8-km dam with 100 000 blocs to position. On this project, ACIMEX provided 3 drop tables to equip excavators that MESURIS completed with their POSIBLOC system.
A word from Thierry MOUQUET, Technical Director at MESURIS, about the relationship with ACIMEX : « Our partnership allows us to give to our client a specialised equipment, which is directly compatible and optimised for an efficient positioning of the armour units using the POSIBLOC system. For the future, we expect to reinforce our collaboration by enhancing the importance given to user feedback, in order to improve our equipment. »
POSIBLOC, an unmissable tool for the ACIMEX harbour projects
The MESURIS company, based in Brittany in France, is specialised in multibeam bathymetry surveys (science of measuring ocean depths and relief) and electronic systems integration. The company developed a real-time 3D monitoring system to help the laying of concrete blocs for the construction of breakwaters. POSIBLOC conveys specific measures for each bloc (position and orientation). It guides the crane operator on the target of the installation plan, to respect the imbrication and density rules. This system can be used both under water and out of water, which makes it ideal to release the divers from meteorological constraints, and to improve safety on construction sites.
ACIMEX, the expert in heavy handling, can work with you on your projects. Please contact us at This email address is being protected from spambots. You need JavaScript enabled to view it. or ask us for a quote