ACIMEX, the French manufacturer of lifting equipment extends its know-how to pipeline sites. Large-diameter pipe lifters enable the construction and rehabilitation of water supply and sanitation projects, for drinking water and river systems. "A strong expertise serving the networks" testifies one of our customers based in Ille-et-Vilaine, Brittany, a convinced user of the vacuum technology developed by ACIMEX.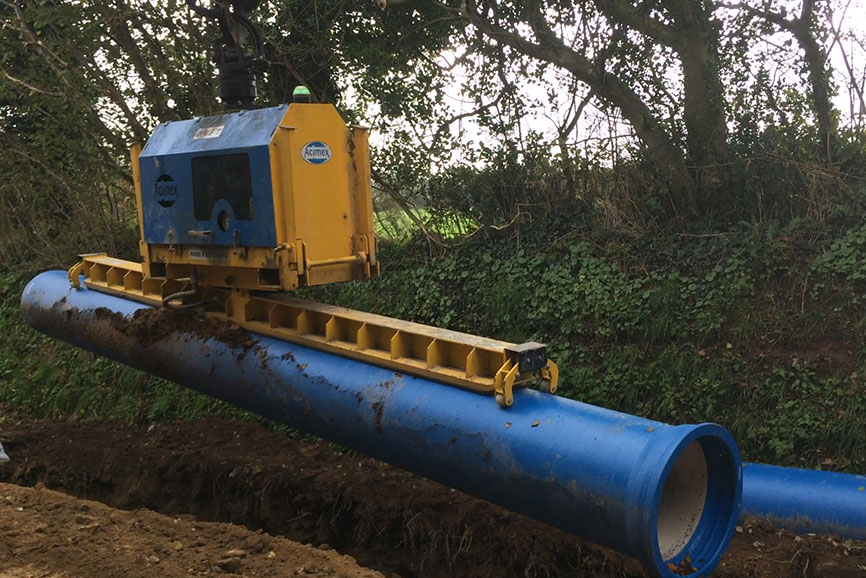 The "all-in-one" pipe lifter developed by ACIMEX
The Brittany-based SME first discovered the vacuum technology that ACIMEX developed by looking for a tube-handling system on the internet. The customer's problem was to find not only a system able to lift cast iron tubes weighing up to 2 tons, but also multi-diameter, and without changing the equipment while ensuring operator safety. ACIMEX thus offered to design a STARLIFT lifter (with integrated guidance system), combined with a vacuum station set to interchange the suction cups at each tube diameter (from 200 to 400 mm and from 400 to 600 mm): a tool that should be modular and robust because it would be subject to climatic conditions and used repeatedly several times a day.
Productivity, flexibility and security are the keywords for ACIMEX products
Often used for large diameters (from 350 mm onwards), the ACIMEX tube lifter is appreciated for its ease of use and speed of operation. Indeed, movements, positioning and removal are performed in one take. The productivity of the site is thus improved, eliminating any risk of deterioration of the tubes. The ACIMEX equipment is also a guarantee of safety for the operators, since no manual intervention is engaged.
Our customer, which specializes in laying networks around St Malo, Brest, Paris and beyond, tells us that the ACIMEX solution coupled with the "OilQuick" attachment system is the best system to handle its tubes.
ACIMEX vacuum technology at the service of the « OilQuick » system
The "OilQuick" system is an automatic quick coupler system for construction, handling equipment, forklifts and cranes. Thanks to OilQuick, combined with the ACIMEX lifter, the operator no longer has to leave the cabin to couple and uncouple the tools. This saves time and reduces the risk of an accident.
"In 2 seconds, the connection to the excavator is done without the operator having to get off it," confirms our customer. He adds: "This hydraulic assembly, managed independently, allows my operator to perform an additional earthwork action by alternating the attachment of the bucket with the suction pad".
A real progress for construction sites, and which avoids the tedious and dangerous work of pipe's manual attachment.
ACIMEX, the expert in heavy handling, can work with you on your projects. Please contact us at This email address is being protected from spambots. You need JavaScript enabled to view it. or ask us for a quote.