ACIMEX innovates with its miniature vacuum lifter named the Easylift. Expert in the handling of heavy loads, the company found the solution to showcase concretely the efficiency of the vacuum lifting technology and the quality of its equipment to its clients.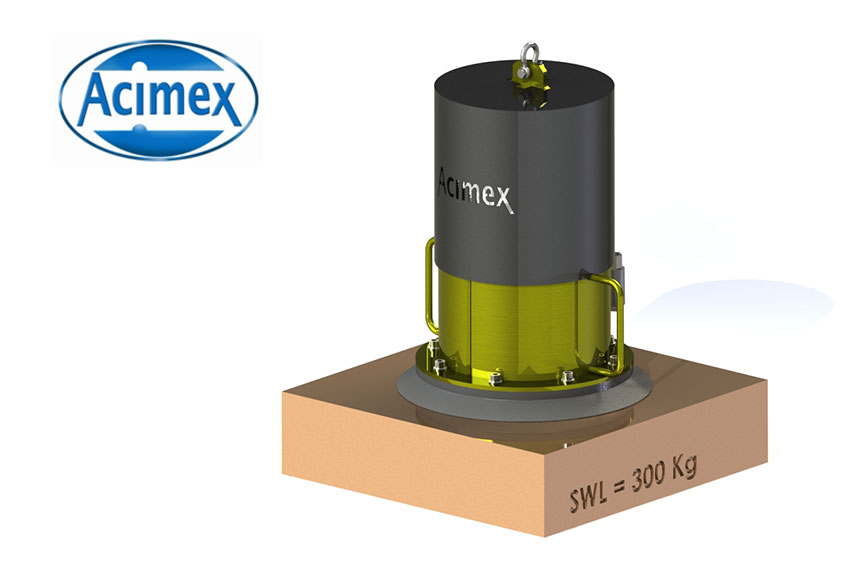 How to use the ACIMEX mini vacuum lifter
The Easylift is now an essential sales tool for ACIMEX : a miniature vacuum lifter that sales representatives can carry during their travels and on shows, even abroad, and which allows them to demonstrate the vacuum handling technology to their clients.
Technical description :
- Diameter : 450 mm
- Height : 590 mm
- Weight : 48 kg
- Load type : plates and sheets
The Easylift showcases the quality of ACIMEX products
This tiny vacuum lifter can handle plates and sheets with a minimum diameter of 480 mm and a maximum weight of 300 kg. On a smaller scale, it can reproduce the same actions as a normally-sized lifter, notably the vacuum lifting operation which contributes to ACIMEX's reputation. This new tool represents a significant innovation for the brand, an essential sales tool and an additional guarantee of quality for its clients.

ACIMEX, the expert in heavy handling, can work with you on your projects. Please contact us or ask us for a quote.