ACIMEX drop tables belong to our marine equipment range, just like the C-hooks and the lifting grabs. These solutions are aimed at handling breakwaters. Reliable and simple to install, the drop table fixes itself to its base and allows the positioning of these specific concrete blocks.
How does a drop table work ?
With the drop table, breakwaters of numerous types can be moved and positioned : TETRAPOD, ACCROPODETM (I & II), ECOPODETM, CORE-LOCTM, or even Xbloc®. These blocks, once assembled, form a dam. The table is used on working sites which create « moving » structures. Once fixed to an excavator or a cable crane, one sole technician safely manœuvres its load, rotating and releasing it with the help of the drop table.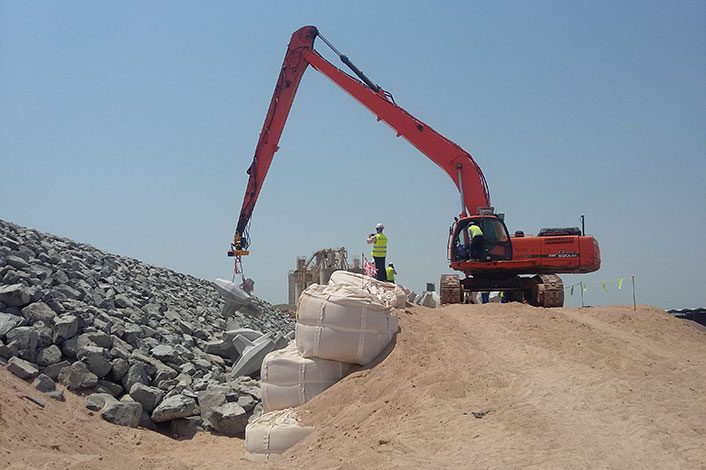 Drop table : Technical specifications
ACIMEX drop tables can move 80 concrete blocks, weighing 50 tons each, per day. They are composed of :
A female clevis to connect to the lifting machine
A durable principal structure
A metal sling
A hydraulic guard locking pin
A hydraulic rotator used for orientation
A perimeter protective hoop
A POSIBLOCTM gyro-sensor from MESURIS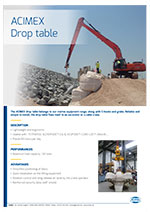 Click here to download the ACIMEX "Drop Table" brochure
ACIMEX, the expert in heavy handling, can work with you on your projects. Please This email address is being protected from spambots. You need JavaScript enabled to view it. or ask us a quote.