CS BETON PREFA is based in the Czech Republic and manufactures concrete precast elements for different application sectors, such as transport, water management or landscaping. For the second time, the company partners with ACIMEX for the conception of a new vacuum lifter dedicated to the handling of concrete elements.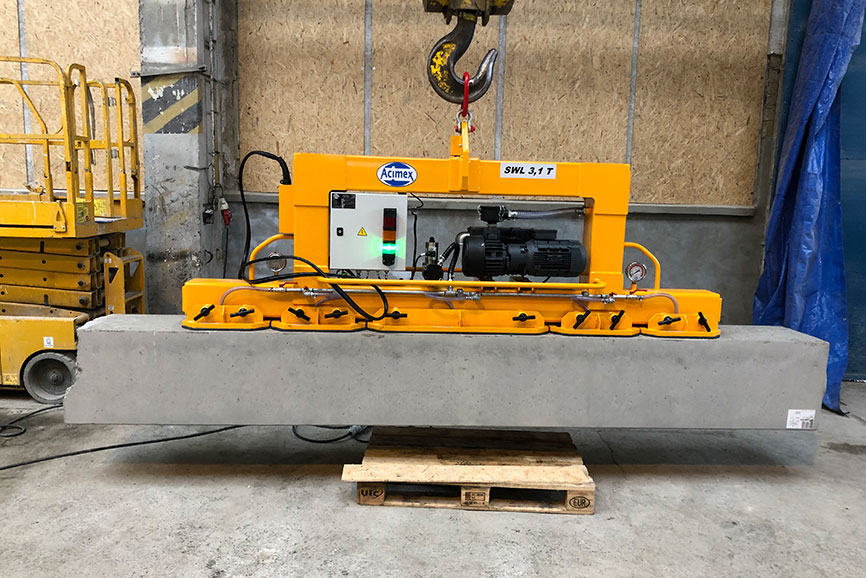 ACIMEX and CS BETON PREFA collaborate again
The collaboration between the two companies began in 2018, when ACIMEX conceived and manufactured a vacuum lifter set to handle the concrete loads produced by CS BETON PREFA. The Czech company, satisfied with this first purchase, renews its trust with another request to the French SME, 2 years later.
The lifting of heavy loads using vacuum technology is a safe and effective solution, both for the load to be lifted and for the operators. The reputation of ACIMEX is worldwide in the domain, and CS BETON PREFA represents a perfect proof.
ACIMEX manufactures a tailored lifter for CS BETON PREFA
Czech company CS BETON PREFA possesses several concrete precast element production sites in the country. These concrete elements have various sizes, forms and weights, and require a lifting equipment that is adaptable and safe at the same time.
At the beginning of 2021, ACIMEX delivered a tailored vacuum lifter at the Grygov production site, with a lifting capacity of more than 3 tons. Equipped with 5 pads, this ACIMEX lifter will be adapted to any charge produced by the customer.
ACIMEX is always glad to work on personalized projects, for customers who recognize its know-how and mastery in vacuum lifting. Based on trust, the quality of the relationship between ACIMEX and its customer is above all about work quality, and customer satisfaction.
ACIMEX, the expert in heavy handling, can work with you on your projects. Please contact us at This email address is being protected from spambots. You need JavaScript enabled to view it. or ask us for a quote.