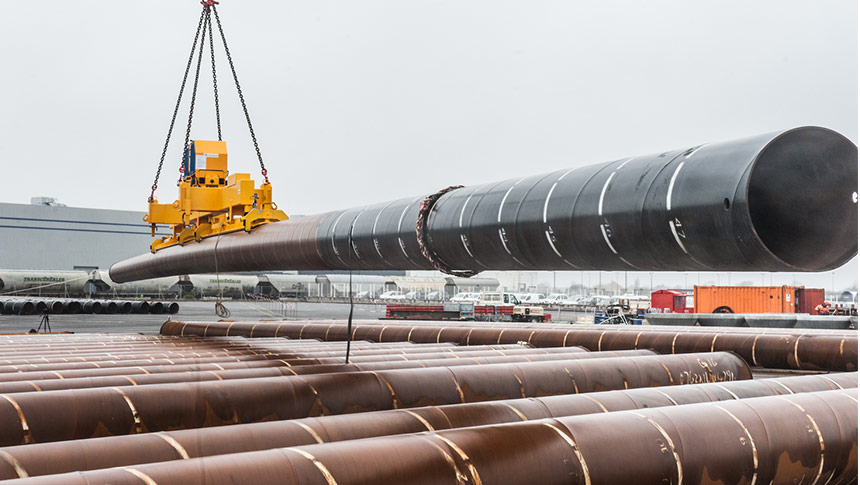 ACIMEX has recently supplied a tube-lifter for lifting XXL pipes (50 metres long). These tubes act as piles: they will be installed securely offshore as a basis for building the platform for extending the current port.
We are talking about the large port of Nantes Saint-Nazaire, the 4th largest in France and the leading port along the Atlantic Coast. At present it receives 28 million tonnes of freight every year. The 350-metre extension will make it possible to accommodate XXL container ships from 2017. The aim is to provide new infrastructure for vessels over 300m long, when the current facilities are limited to container ships no more than 290m long. Until now, only vessels with a capacity of 4,000 TEU (twenty foot equivalent units) could be unloaded. With the extension, boats holding 8,000 containers – which in the past had to continue to make their way to the Channel and North Sea ports without being able to call at Saint-Nazaire – will now be able to access the terminal. The total accommodating capacity for vessels will therefore reach 1,300 metres long.
The builder appointed for the project, Bouygues, has called on the Capelle transport company, which specialises in oversize mobile handling and heavy load transport. The ACIMEX versatile tube-lifter can be used to lift XXL pipes as well as store and handle 50-metre long parts. With a lifting capacity of over 20 tonnes, it can be adapted to all types of handling machinery, from portside mobile cranes to worksite shovels or stackers. ACIMEX custom-designs and manufactures very high capacity equipment.
ACIMEX, the expert in heavy handling, can work with you on your projects. Please contact us or ask us for a quote.