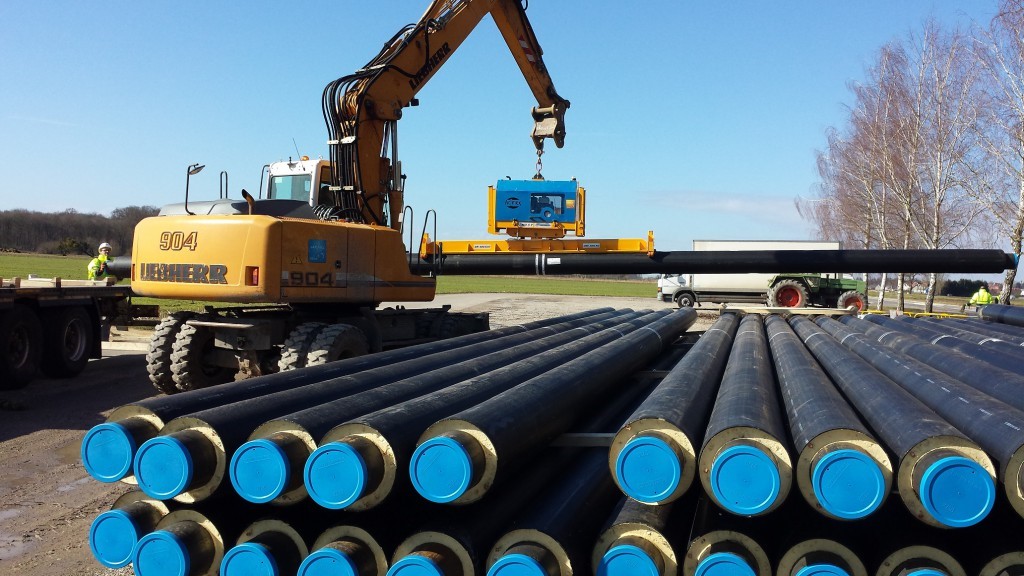 The French department of Bas-Rhin (Low-Rhine) invested in the construction of a geothermal power station at Rittershoffen, realization is planned for 2016.
The project named ÉCOGI (Exploitation de la Chaleur d'Origine Géothermale pour l'Industrie) aims to extract heat from the geothermal fluid which circulates in a downcast network in a depth of more than 2500 m to directly feed the industrial processes of the factory belonging to the international group Roquette Frères at Beinheim.
In this depth, the geologists expect to find water approaching 200 °C in a naturally fractured rock. Until June 2015, about fifteen kilometers of drains will connect the power station of Rittershoffen to the factory. With a target power estimated at 24 MWth, and the support by a boiler biomass, the geothermic heat allows the factory Roquette to pass from 100% fossil energy (gas) to an energetic mix of 75% of renewable energies (50% of origin biomass, 25% of geothermal origin). The ÉCOGI project reduces thus significantly the CO2 emissions by 39000 tons per year.
ACIMEX provided its top vacuum device, the Starlift 500, means of handling to discharge tubes from the trucks, to store them out in piles, to position and to lower the tubes. The handling system per suction cup used for this project allows gripping of steel coated tubes with a length of 17 meters, where no classic handling means can compete without damaging the surface quality of the tubes. Only the suction cup can do this kind of handling with effectiveness and a constant high level quality.
ACIMEX, the expert in heavy handling, can work with you on your projects. Please contact us or ask us for a quote.