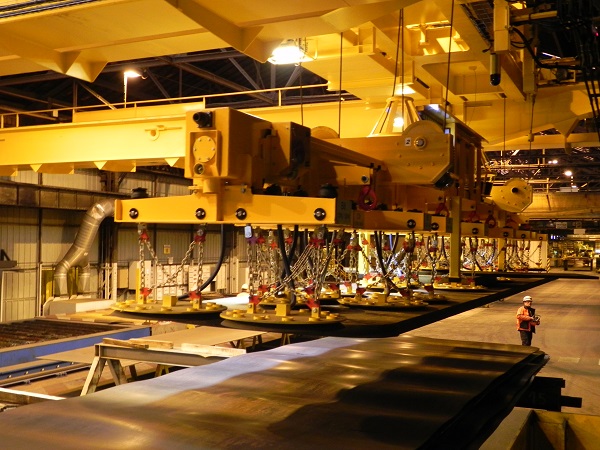 ACIMEX supplies the custom-made lifting machine that helps to load and unload ARCELOR's brand new testing machine.
A tailor-made lifting solution
Well-known company ARCELOR MITTAL, worldwide leader in the production of high-quality steel, has invested in an ultrasound testing machine. This investment was justified by the need to meet customer requirements in term of quality.
In order to realize the project, ARCELOR needed a reliable and flexible lifting machine to load and unload the testing machine :
Flexible because metal sheets varied from 2x2 meters to 4x4 meter size
Reliable because the high resistance metal sheets weighted several tons
A remote controlled vacuum lifter
ACIMEX supplied a turnkey solution, in association with KONECRANES. The bill of specifications stated that the vacuum lifter had to be radio-controlled, meaning that the operator can select with vacuum pad he wants remotely.
ACIMEX, the expert in heavy handling, can work with you on your projects. Please contact us or ask us for a quote.