A lifting specialist, ACIMEX produces customized vacuum lifters to handle and store tubes of different diameters and weights. Regularly used in the energy sector, STARLIFT pipe lifters have become essential equipment for many construction sites. French company CAPELLE Transports has agreed to share its feedback about this range.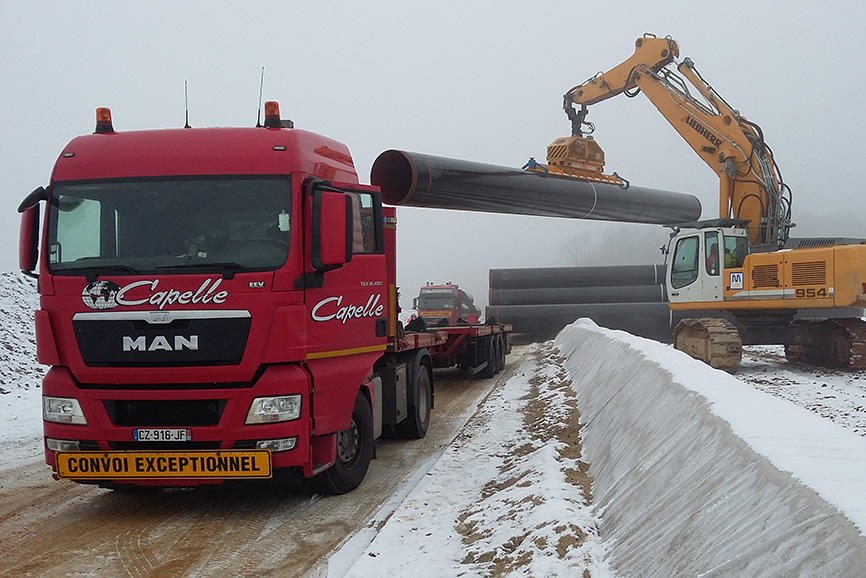 Understanding tube handling using vacuum technology
Technical issues raised by civil engineering companies, cladding installers, transport companies or simply pipe manufacturers are at the origin of the conception of STARLIFT. ACIMEX operates when pipes need to be loaded or unloaded using roads, railway tracks or even shipping lines, whatever the length, diameter or charge capacity of the pipe that has to be handled. STARLIFT is also used to store pipes or to set them in a trench.
STARLIFT is easily adjustable on travelling cranes, lifting trolleys or excavators, and is conceived for an outdoor use subjected to bad weather and temperature constraints. It's equipped with a diesel motorization and guarantees a 2x8 hours of autonomy in continuous (a power supply is also possible for a factory use).
Using the ACIMEX STARLIFT lifter guarantees :
- A maximum of safety for the staff (visual and sound alarm system implanted)
- A diminution of the risks and a better productivity (less staff because only one operator is necessary)
- A load capacity of up to 50 linear meters in length, and 23 tons in weight
- A respect of the steel pipe's integrity
- A quick grip in only one second
- A diminution in use of other lifting devices (hooks, clamps, slings, splints)
- An adaptability of a large number of shovels and trolleys (CAT, HITACHI, LIEBHERR, VOLVO...)
The STARLIFT lifter conforms to the European (CE) and American (ASME) standards.
Focus on pipe handling within CAPELLE Transports
The CAPELLE company, located in Chantonnay (85), is a major actor in special transports and specialises in steel pipes handling. This niche activity is also achieved with the ACIMEX STARLIFT lifter, used since 2012.
Reliable, safe and practical, notably for big projects with an important load capacity, the STARLIFT is used by CAPELLE Transports for their global activity :
1. A « storage » phase : unloading and storage of pipes
2. A « cladding » phase : laying out of water pipes and gas pipes
« Using vacuum happened by chance » says Maurice Durand, the Agency Director. Indeed, « 25 years ago, our former director, M. Thomas, visited pipers who used vacuum technology in their production process, and decided to apply this method in our transport activity. »
Since then, pipe delivery and handling services are commonly executed by vacuum. « For reasons of safety, this lifting mean is now required for tubes of a diameter greater than 300m. » explains M. Durand.
ACIMEX, the expert in heavy handling, can work with you on your projects. Please contact us or ask us for a quote.