The LAMBERET company, one of the European leaders in the refrigerated vehicle sector, called on ACIMEX for its expertise in the handling of laminated panels. With three production sites in France and one in Germany, 7 ranges of refrigerated vehicles, LAMBERET is a long-lasting European industrial company, like ACIMEX.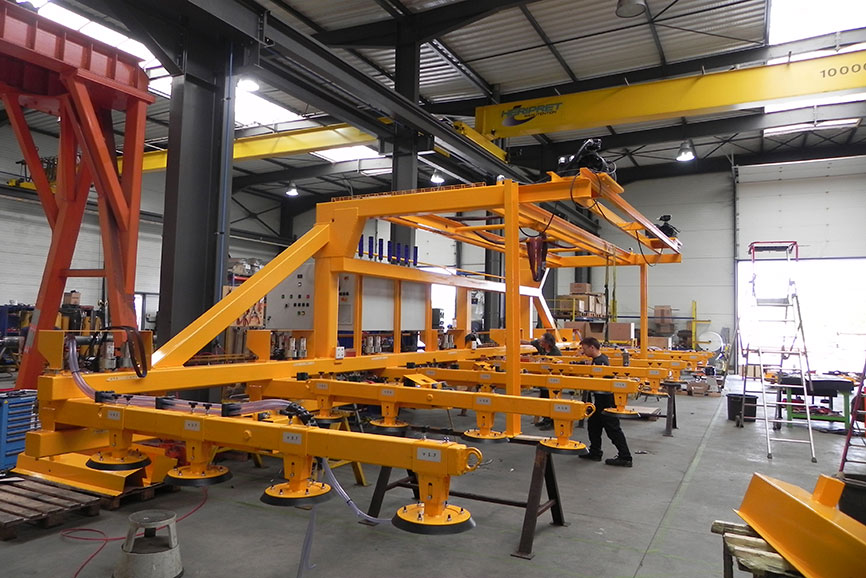 An ACIMEX turning vacuum lifter for the LAMBERET workshop
ACIMEX will soon be providing LAMBERET with a turning vacuum lifter for the lifting and handling of large-dimension laminated panels. The French company, founded in 1935, conceives and manufactures refrigerated vehicles for professionals all over Europe. With production sites in France and in Germany, agencies in Spain and in Italy, the coachbuilder's fame is international.
The panels which will be lifted by the vacuum lifter are 14 meters long and 3 meters large, the ACIMEX tilting lifter counts 28 pads to apprehend and move the panels safely. A premiere once again for the ACIMEX SME, always providing tailor-made equipment.

ACIMEX, the expert in heavy handling, can work with you on your projects. Please contact us at This email address is being protected from spambots. You need JavaScript enabled to view it. or ask us for a quote.