ACIMEX works in close collaboration with international agents to ensure its presence worldwide and to offer its products in the best conditions, by overcoming cultural and linguistic barriers. PerlaSeta Machinery, distributor in iron and steel industry, is the exclusive representative of ACIMEX lifters in Turkey.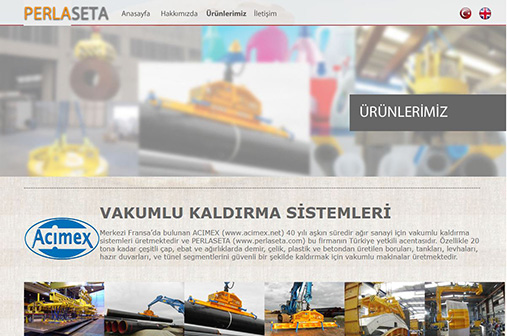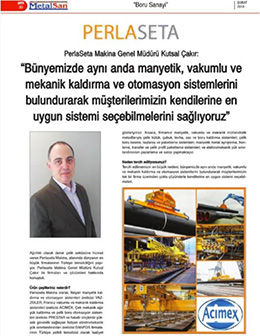 ACIMEX lifters distributed all over the world
PerlaSeta Machinery, located in Istanbul, Turkey, is also the official distributor of ACIMEX products, and as such the exclusive agent of the french company in the country. Specialised in equipment trade for iron and steel industry, their offer to their clients is now complete with the ACIMEX products, especially for the pipe sector, one of the most important fields on which PerlaSeta would like to concentrate its activity. According to Kutsal CAKIR, General Director of PerlaSeta, the STARLIFT range, conceived and manufactured by ACIMEX is ideal for this type of load : « A vacuum technology system easy to use, quick, safe and very effective ; only one operator necessary in the work zone. It fixes itself easily in just a few minutes only onto cranes, trolleys, or shovels. Considering there's no mechanical prehension during the lifting or handling of the tube, the load doesn't suffer any damage. »
ACIMEX recognized quality and professionalism
The PerlaSeta Machinery company has been working with ACIMEX products since 2016. The company was looking for new processes in the industrial lifting field to complete its offer, and the vacuum technology was perfect : the ACIMEX brand provides all the guarantees needed to satisfy turkish industrials, as well as very good references in many countries, an important variety of lifters and an attractive price/quality ratio.
ACIMEX, a french brand ready to invest the turkish market
Unknown in this part of the globe, the vacuum technology represents a major innovation for turkish industrials. PerlaSeta highlights its ACIMEX range of vacuum lifters towards local companies, even if they're not very familiar with this type of lifting. The economical context doesn't encourage industrial companies to invest in new equipment, but ACIMEX wants to stay visible in anticipation of the next turkish economical growth. Vacuum technology will then have its place and legitimacy on the industrial turkish market, as soon as the economical situation of the country allows companies to invest.
ACIMEX, the expert in heavy handling, can work with you on your projects. Please contact us or ask us for a quote.